Hunter Douglas Luminette® Privacy Sheers are a vertical window treatment with a sheer face fabric to let the light in and soft fabric vanes to keep the light out. They provide complete privacy with stunning fabrics that create instant drama in any room.

Hunter Douglas Luminette® Privacy Sheers are the perfect solution for sliding doors. In the above photo is a one-way draw Luminette® Privacy Sheer that pulls to the right side to give full access to the door on the left. Beautiful on their own, we choose to add this bold custom valance and tied back panels in a fun mix of fabrics. Notice how much light is filtering into the room with the Privacy Sheers drawn and the vanes open.
Luminette® Privacy Sheers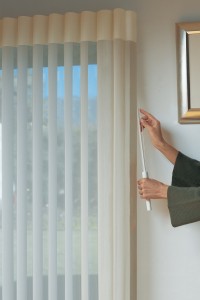 A child safe combined wand/cord system eliminates dangling cords and provides smooth reliable operation. The wand/cord traverses the Luminette® Privacy Sheers and controls the tilt of the vanes.

Luminette® Privacy Sheers are the perfect solution for sliding glass doors or large expanses. Hunter Douglas Luminette® Privacy Sheers cover widths up to 192″ wide and heights up to 120″. The window is treated with another Hunter Douglas product, Silhouette®. Coordinating fabrics enhance the Luminette® and Silhouette®. The cornice with draped swag overlay unifies the window and doors.
Control the light by tilting the vanes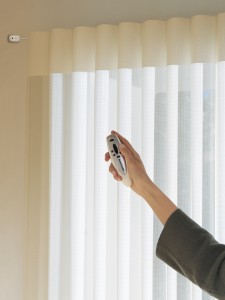 A handheld remote traverses the sheers and rotates the vanes. Luminette® with PowerView® Motorization is the ideal solution for extra wide windows and doors. Motorization makes it easy for all members of the family to use.
Hunter Douglas Luminette® Privacy Sheers protect furnishings from UV damage while maintaining view-through.
The vanes tilt, diffusing and dispersing the sun's rays into a soft natural light. Light throughout the room, can reduce the need for electric lighting during the day.
Vanes tilted closed offer discrete privacy and security for your home.
Available in a wide variety of fabric styles and colors to compliment your decor from rustic casual to formal elegance.
Room darkening vanes are an option for those who prefer darkness during the day.
The opaque vanes are the perfect solution for the bedroom or a media room.
Luminette® stacks with perfectly aligned soft folds when the privacy sheers are opened. There is never a need to fuss with them.
Center opening or side stack are available.
You can tell that Luminette® Privacy Sheers are one of my favorite solutions for your windows. They help solve many homeowners window challenges.
Luminette® comes with a Hunter Douglas Lifetime Guarantee.
Click here to see the latest Hunter Douglas Promotions.
Are Hunter Douglas Luminette® Privacy Sheers Right For Your Windows?
Would you like to see how Hunter Douglas Luminette® will look in your home?
The combination of Hunter Douglas' innovative products and my interior design expertise; there is a solution for every window in your home or office.
Do you have a friend or neighbor who would love this? Please share with them.
Contact me today, I will guide you in the best decisions to make your house into a home you love.
Bringing Hunter Douglas shades, blinds and window coverings to you in the Worcester, Massachusetts area including Holden, Princeton, Sterling, Rutland, Paxton, West Boylston, Shrewsbury, Boylston, Grafton, Sutton, Millbury, Lancaster, Clinton, Leominster, Barre, Gardner, Sturbridge, Spencer, Lunenburg, Winchendon, Bolton, Brookfield, Hardwick, Harvard, Hubbardston, Oakham, Petersham, Phillipston, Royalston, Templeton, Warren, Westminster and beyond.
Photos other than those marked Window Designs Etc. are from www.hunterdouglas.com