Last week I traveled to Atlanta, GA to attend Design Bloggers Conference 2015. I attended  last year for the first time and loved it, I couldn't wait to return.
I was inspired and energized being with my design and blogging friends.  Little did I know how much more fun and excitement was in store for my second conference.

Day One of Design Bloggers Conference 2015
It's a relatively small and focused group of attendees so it is held in the Grand Ballroom of the Grand Hyatt in Buckhead, Atlanta, GA.
The window treatments heading down the staircase are quite impressive, don't you think?  "Simple" panels with grommets thread onto rods.  The bottoms are tapered and then flipped back and fastened like a tent.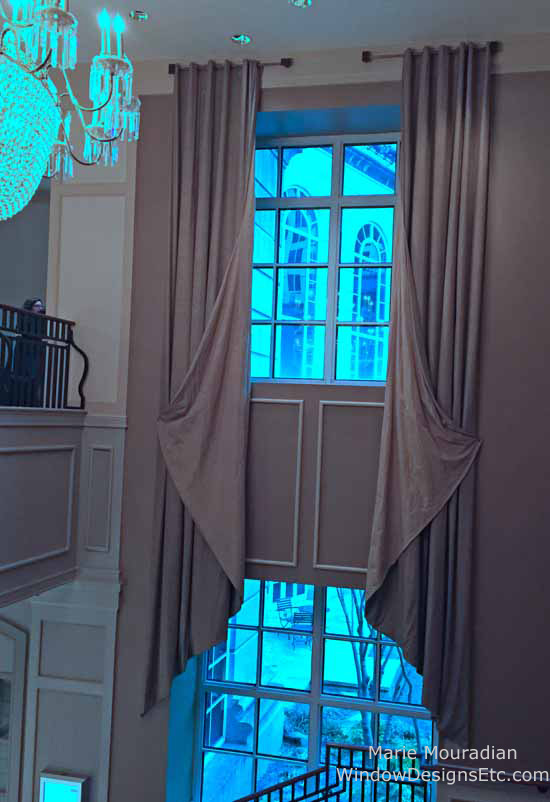 I received my official name badge with the full schedule on the back.  There is tremendous support from vendors which makes the swag bag (think goodie bag for adults)full of lots of fun things like Cree LED lightbulbs, Taylor Burke Home Goo Goo clusters, a tape measure from Chairish, notepads, portable electronic chargers, pencils, mints, chapstick and the list could go on!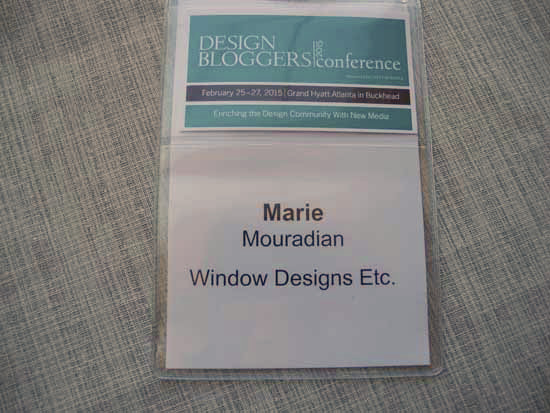 When I left Central Massachusetts with 100+ inches of snow and headed south, I was anticipating warmer temps.  Warmer they were, but only just above freezing and rain/snow was in the forecast. This is a bad formula for Georgia since they are not equipped to clear the roads.  The governor declared a state of emergency and all were to be off the road!  We were supposed to be at ADAC, Atlanta Decorative Arts Center, for morning talks and then to Phipps Plaza for the Luxury Living Show where Alexa Hampton was scheduled to speak.  She couldn't fly in so she spoke via Skype.
The ADAC morning was cut short but we did enjoy a lovely lunch hosted by Duralee before we left.  They had more swag bags for us.  Look how pretty these are.
Anyone care to guess which color I choose?
Leave your answer in the comments at the bottom.

The 450+ attendees are tweeting like crazy the whole conference.  The hashtag is #DBCatl.
While at the luncheon, I saw a tweet come in from Rhoda Vickers of Southern Hospitality, a blog I have been following for 6+ years.
Of course I had to find Rhoda and have my picture taken with her.  What a Southern sweetie!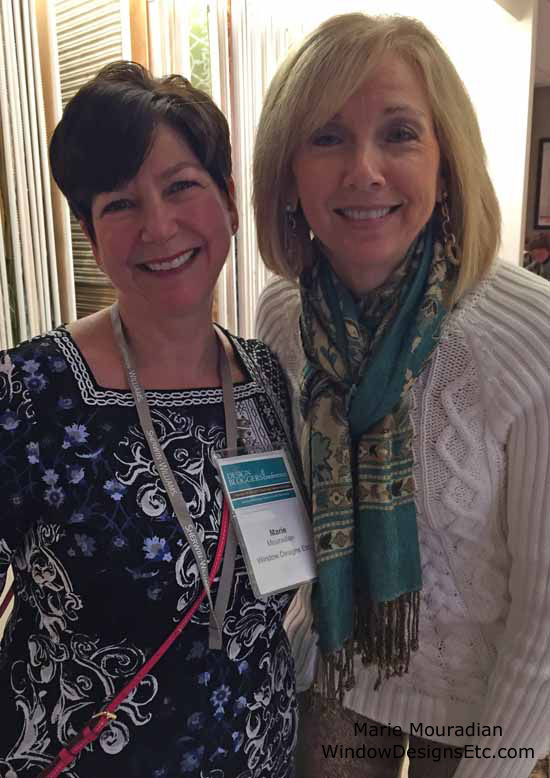 We spent the afternoon waiting and watching for the big Atlanta snow….and drinking wine in the lobby with all of the other design bloggers.  This is really why this conference is so valuable, it's the willingness of others to share, inspire and teach.
The snow never arrived so we were on for a nice welcome reception sponsored by my preferred paint, Benjamin Moore.
For the after party we were off to Bjork Studio where they make custom upholstered furniture.  Traditional Home and Sunbrella were the sponsors. Bjork Studio made these lighted boxes to feature the furniture in a wall of wood scraps. What a fun way to display!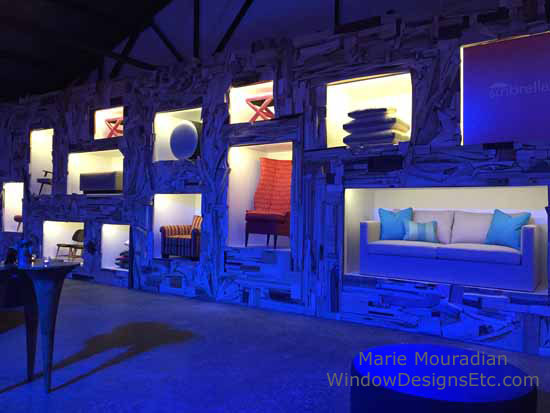 These pillows caught my eye with their varied patterns and bright colors.  Performance fabrics, particularly Sunbrella brand, are not just for the outdoors any more.
They are colorful, trendy, soft and very durable for the family room too.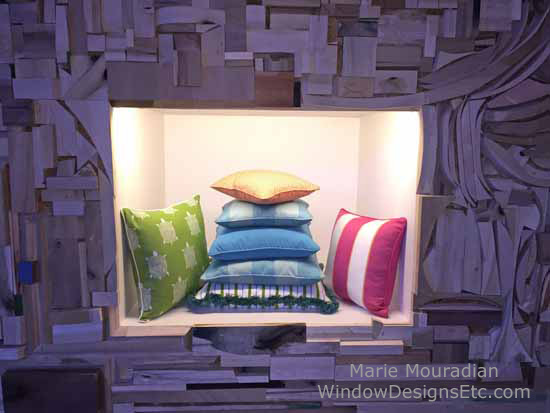 Day Two of Design Bloggers Conference 2015
Nate Berkus started off the morning as the keynote speaker.  What a cutie!
You may know him from Oprah, his own show, American Dream Builders or his product line at Target.
How does a famous successful designer inspire a room full of designers?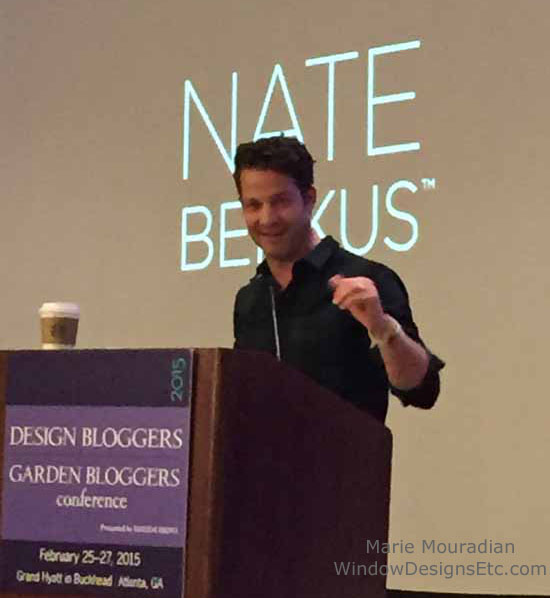 With PERMISSION!
Nate gave us permission to be honest about what we want and need.
Permission to make mistakes.
He said "Give yourself permission to take that design risk".
Permission to believe you are inspiring.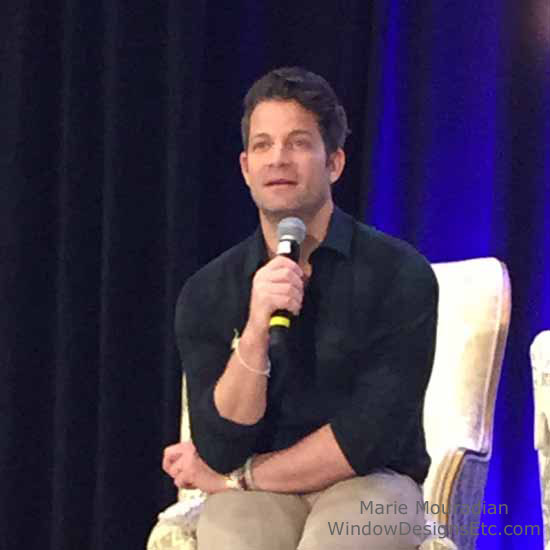 Nate Berkus is a hard act to follow.  Marcus Sheridan, @TheSalesLion, easily captured our attention with his energetic and powerful talk on how to dominate your niche online.
His advice on "Answering customers questions" was exactly what I needed to hear.  This blog is for YOU, my sweet readers.
What have you always wondered about window treatments, interior design, color, the business of design or me?
What questions would you like answered? If you have them, I'm sure others do too.
Please leave a comment below or email me.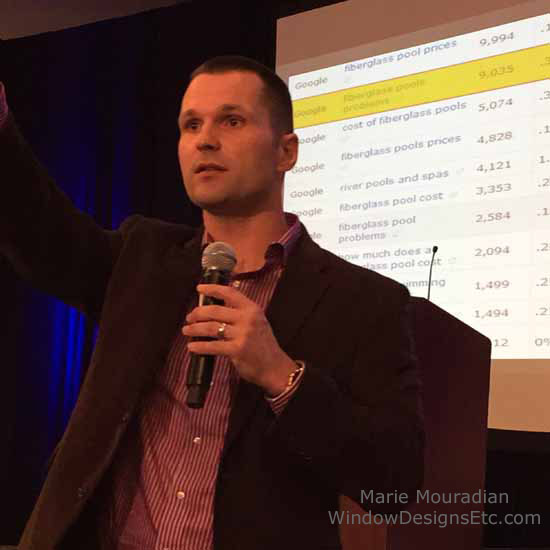 We had a short break in between speakers to freshen up, grab another cup of coffee and visit with some of the sponsors and exhibitors.
I was happy to see my favorite fabric vendor with a beautiful display of the newest line from Nate Berkus, (yes he does fabric too), Vern Yip and Isabell de Borchgrave. Rebecca and Jen are brand and marketing managers for Fabricut, Trend Fabrics, S. Harris,  Stroheim and Vervain.  I dropped my business card in the bowl for a chance to win dinner with Vern Yip.
See more posts about Fabricut here.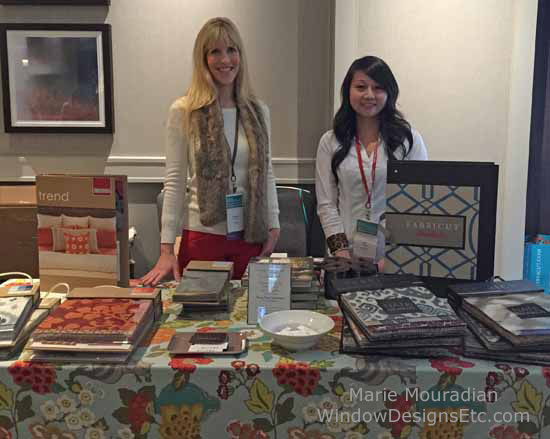 YouTube and all videos are an easy way to digest information.  I frequently hop over to YouTube and search for something I want to know more about.
Beth LeManch of Entertaining With Beth, produces gorgeous videos on the ease of entertaining beautifully.  Check out her channel here.
FYI – Beth's dad is Joe Ruggiero.  He is a designer with his own furniture and fabric line.  I think of Joe as the pioneer of design TV, even before HGTV.
Beth LeManch has inspired me start doing more with video.  Come visit my channel here. 
Do you have any suggestions for videos?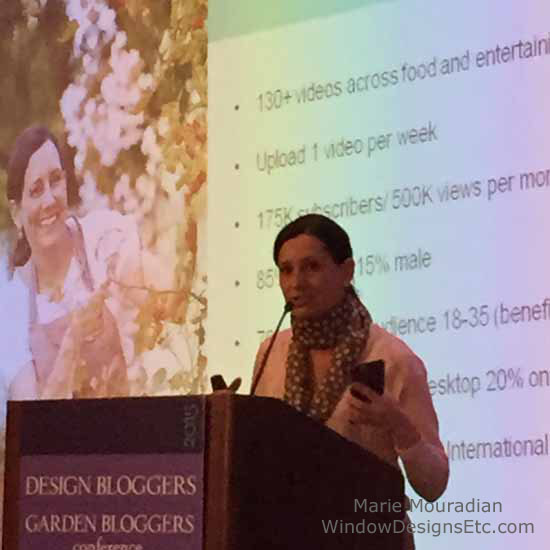 The founder and producer of Design Bloggers Conference 2015 is Adam Japko of Esteem Media.  Esteem Media is based right here in Carlisle, MA.  One of it's many print brands is New England Home.
Adam isn't shy about his love of wine.  Here's an in depth interview with 90+ Cellars.
Jonathon Alsop of Boston Wine School spoke to us about branding and social media.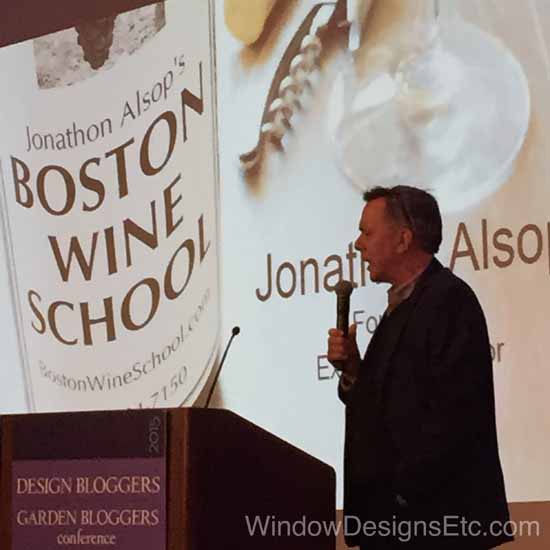 Wine and design is the perfect pairing.  What a treat to taste a Pinot Noir and a Cabernet even before lunch with my long time design friends.
Having fun at the conference with Jackie Von Tobel –  author, product designer and the licensee of Catalina Floral Dinnerwear at Pier One and Cheryl Draa – Cheryl Draa Interior Designs and our personal Atlanta ambassador.
I featured one of Jackie Von Tobel's pillows in this post.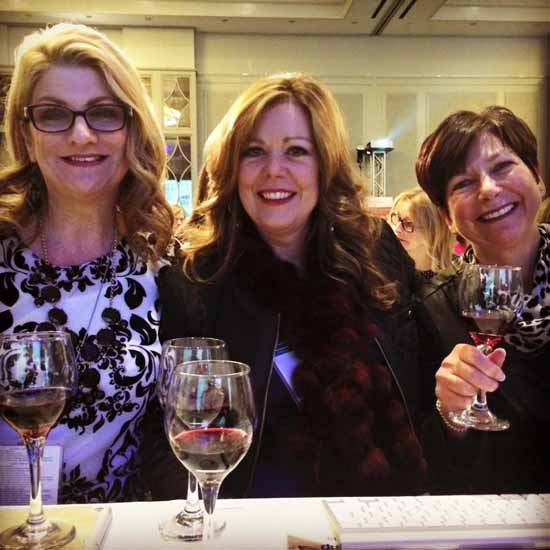 The smile on my face may be because of the sip of wine or the fact that I was just notified I was one of the winners of dinner with Vern Yip!!!!!!
Eeeek~ the official invitation!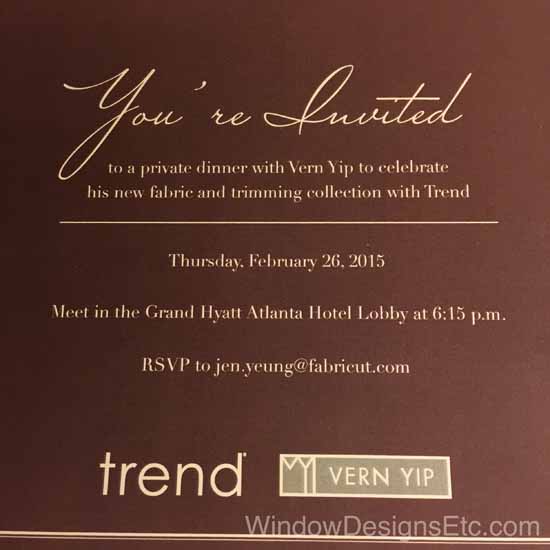 The big surprise was the dinner was at Vern Yip's HOUSE!
He tweeted out "Dinner for 22 uber talented design bloggers at my house for "DBCatl 2015 to launch my Fabricut Vern Yip for Trend fabric line"
What a treat and over the top dream come true.  Here's a pic of Vern and I in his gorgeous dining room decorated with his own line of fabrics.
Watch for another post I'll do just about the dinner, his family and their lovely home.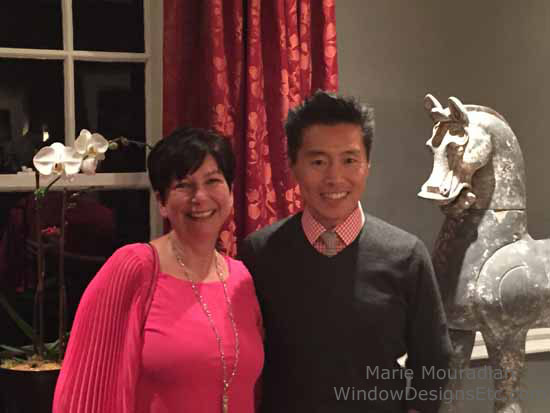 Day Three of Design Bloggers Conference 2015
Paint giant Benjamin Moore had these exquisite floral arrangements done in the trending colors of 2015.
Their color of the year is Guilford Green, a silvery green that works with just about everything.  I've always considered green to be a neutral as it is the color in nature that binds everything together.
Carter Plum and Old Claret are highlighted in the flowers.  All shades of rose petal, wineberry and the deepest plum are trending.
The rose and hydrangea represent Benjamin Moore colors Chantilly Lace and Pink Damask.
Color is important. Pantone's 2015 Color of the Year – Marsala – is currently the most popular post on this blog.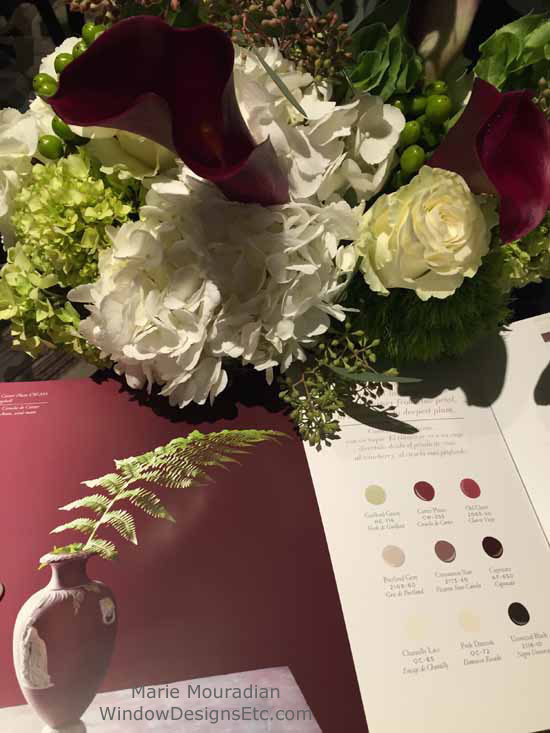 Cree lighting showcased their LED bulbs with the help of HGTV's Cousins Undercover – Anthony Carrino and John Colaneri.
Of course, I couldn't miss this photo op.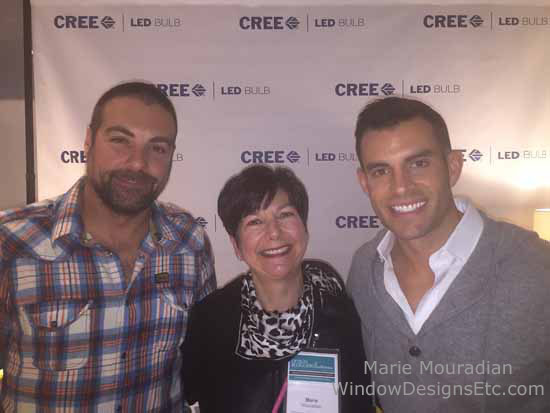 Bunny Williams, the grand dame of design who studied under Sister Parish and Albert Hadley, gave us excellent golden nuggets of wisdom.
She believes homeowners should go out and hunt for things that give a room a personality.
Use various finishes and textures. "Maybe it shouldn't all go together, it will contrast and maybe be a little more interesting"
In the photo below she is telling how a client found a limited amount of this fabric she fell in love with.  A valance was designed and everything else in the room compliments it.
That's a window and a room with great personality and a great story.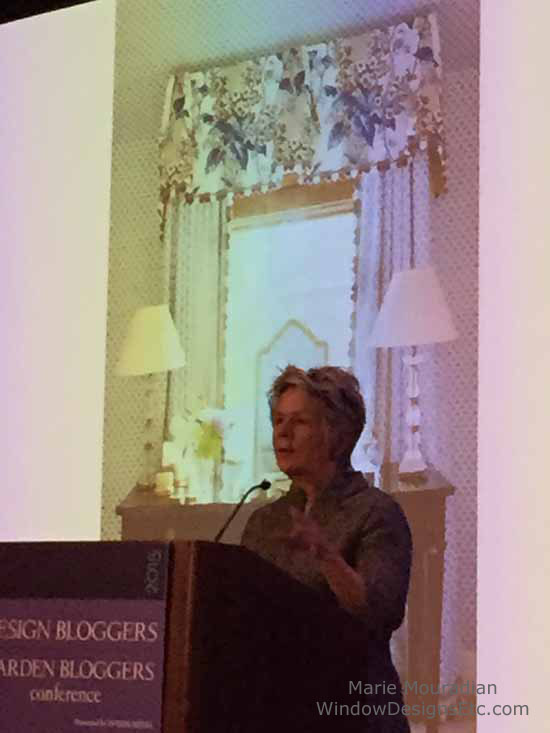 Brian Patrick Flynn started in television production then turned to design.  He is a contributor producer and interior designer for HGTV.
Here he is sitting in front of a slide of one of the rooms he has curated.  He is a one man energy high.  He talks, moves around, designs and produces projects so fast there's no wonder how he has accomplished so much. One attendee referred to him as "Design on steroids".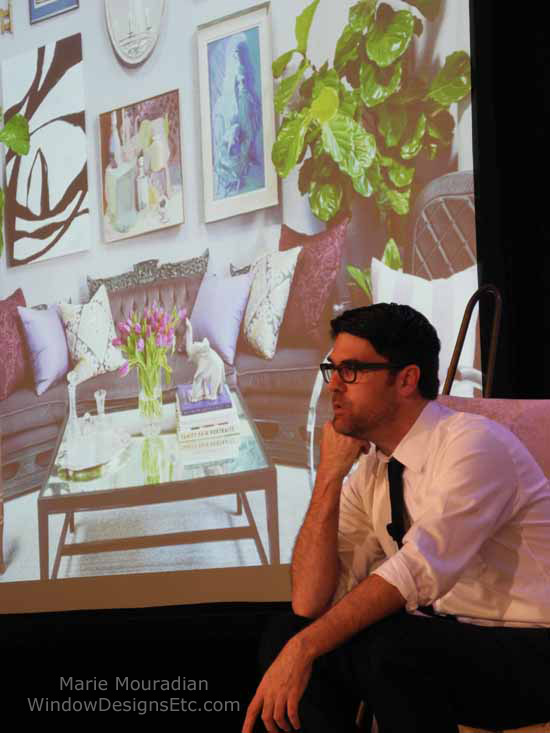 One of his projects is the 2015 HGTV Dream home on Martha's Vineyard. Watch him give a tour of the home here.
He's aware that people want to live in homes, not sets.
"Don't forget the finishing touches that say, "Somebody lives here"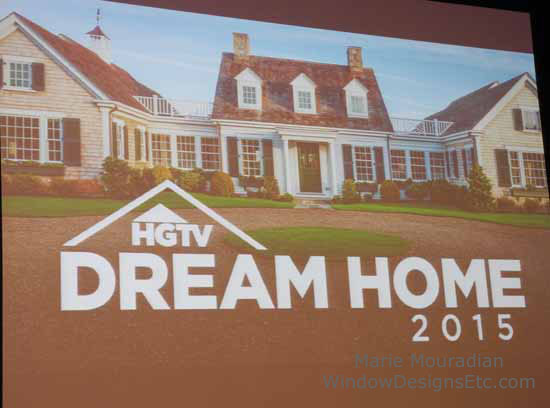 The stage was set up like a comfortable living room where conversation could just flow.
The furniture is by Currey & Company.  I love the mix of patterns – toile, diamond and a printed bargello – in charcoal gray, cream and touches of yellow.
I returned home with so much energy, inspiration and enthusiasm. I was sad to leave my design friends both old and new.
Thank you Adam Japko and Design Bloggers Conference 2015. It was so much fun!
I can't wait for next year!
xoxo
Marie
Contact me today, I will guide you in the best decision to make your house into a home you love to live in.
Hiring a professional, saves you time, frustration and money.
You, your family, your house and office deserve it!