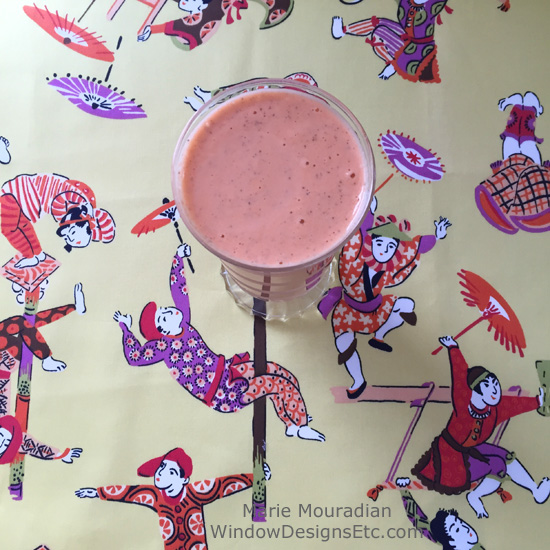 Fabric – Duralee – Chinese Acrobats – 21022-139 Summer
It's been a real circus around here lately.
Catching up and keeping up with clients after I've been away is my priority.
In between, I've been working on a few posts about my amazing time at Design Bloggers Conference.
As always, I took lots of pictures to share with you.
I have so much to share, I can't get the words out quick enough.
I do rather feel like one of these Chinese acrobats juggling many things.
It's a coincidence this Duralee fabric colorway is called Summer, something we New Englanders are all dreaming of.
One thing I haven't managed to do is get myself to the grocery store.
Don't get me wrong, I do still have food in my house, just not my fresh preferred foods.
I've run out of fresh organic baby spinach for my smoothies so I had to add carrots instead.
I am always amazed at the beautiful colors that come out of my Ninja blending.
Pineapple Carrot Smoothie
1/2 cup non-fat Greek yogurt
2 chopped carrots – I'm still using the ones from Cournoyer Farm in Paxton, MA – They keep fresh in the refrig.
1 scoop organic whey protein – Jarrows from Amazon
1 tsp chia seeds – from Trader Joe's
1 tablet calcium with D – I have a hard time swallowing this gigantic pill so it gets ground up in my smoothie.
Blend all of those together in the Ninja cup.
Then add in –
1/3 cup frozen pineapple tidbits – from Trader Joe's
Blend until it's smooth and creamy.
Smoothie blending is a quick and nutritious alternative to breakfast.
This should hold me over until I finish writing my design Bloggers Conference recap.
Please come back later today and check it out.  Warning, it is quite long but I have 22 fab photos to share with you.
I know you'll love it!
Xoxo
Marie
Contact me today, I will guide you in the best decision to make your house into a home you love to live in.
Hiring a professional saves you time, frustration and money.
You, your family, your house and office deserve it!
Please share this post