Interior Design Inspiration At The Beach
I am passionate about window treatments, as if you didn't already know that. I love this business so much, even after 30 years, that I manage to find inspiration for my unique designs in the most unusual places.
Most of the time the weekend does not mean I leave my projects behind. My mind is constantly going through the Rolodex of current, perspective and past custom window treatment projects.
Designing window treatments brings me lots of JOY
We've escaped to Cape Cod for one last weekend before our daughter heads back to college. As many of you know it has been a very eventful summer for our family. Our son moved into his first house and our daughter had major surgery. She is feeling far better than any of us imagined. Check out Amy's Back.
Sitting at the beach is total relaxation for me. My mind is free to wander. It is in this nothingness that everything I look at inspires a design for a window treatment. There is endless interior design inspiration at the beach, especially on Cape Cod. Designing is more like child's-play than work.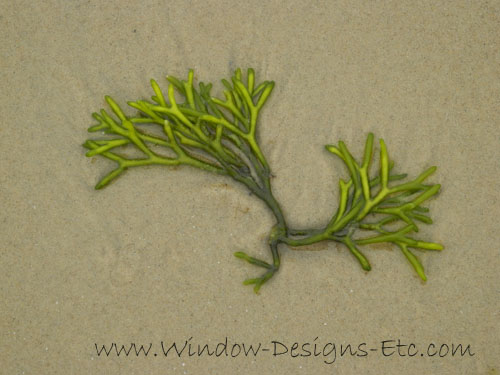 A sprig, if that's what it's called, of seaweed dances and sways with the incoming waves.
See the design in the studio for this project.
Check back in a few days to see the completed design in my Cape Cod clients beach house.
I'm heading back to dip my toes in Cape Cod Bay
Happy Weekend!
XOXO
What do you think about when it's time for rest and relaxation? Where do you get your inspiration from? I would love to hear from you. Please leave a comment below.
Having a hard time being inspired by anything when it comes to decorating your house? I can help you uncover the simple hidden treasures to make your house into the home you love to live in. Contact me today.